StrategicCX Programs:
Topline's Strategic Customer Experience (StrategicCX) consists of a comprehensive set of programs designed to provide an ongoing stream of customer, competitive and market intelligence to your business.  These programs include Voice of the Customer, Sales Win/Loss Analysis, and Voice of your Competitor's Customers'.  The programs are customized to meet your information requirements.  So, whether you want the complete StrategicCX Suite that consists of all three programs, or just one or two programs for focused market intelligence, we will work with you to meet your companies specific needs.
StrategicCX Programs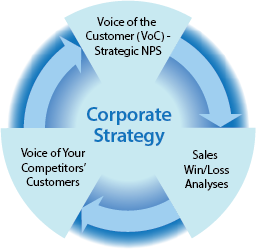 Voice of the Customer – Strategic NPS >
Our Voice of the Customer program obtains unbiased feedback from your customers to provide critical inputs to your growth plans.  Only your customers can truly tell you what they like or dislike about your products and services and where to go next.
Our Sales Win/Loss Analyses program provides a deep understanding of the market and of the competitive dynamics by leveraging our proprietary Sales Chain Analysis methodology.  We will speak with firms including your Leads, One Meetings, No Decisions, as well as your Wins and Losses.
Voice of Your Competitors' Customers >
Our Voice of Your Competitors' Customers program leverages our proprietary methodology to acquire broad insight into how your company stacks up against competitors on the dimension that matters most – what their customers truly value.