Getting market traction for new technology products is hard. Often, it can take a year or longer after launch to really figure out how to sell a new product or sell an existing product into a new market.
Topline Strategy's Go-to-Market engagements shorten the learning process and accelerate Time to Revenue by providing insights into:
The profile for the most attractive prospects
The messages that will resonate
Your competitive position and differentiation
Feature and capability gaps that are holding back sales
Partnerships and channels that will open the right doors
And more…
Topline's Approach
Topline's methodologies combine quantitative and qualitative approaches to primary data collection. We use online surveys and secondary research to Quantify the market. These surveys provide data on the market and segment size, market velocity, competitive shares, etc. We combine the quantitative data with a qualitative approach in which we selectively interview actual and potential buyers, including your customers, competitors' customers and non participants. These phone interviews are critical to Developing Insights such as decision making processes and criteria, competitive strengths/weaknesses, and testing of value propositions.
Typically, a Go to Market project will answer the following key questions:
What is the target segment for your offering and who are the target buyers?
How many of them are there and how often do they replace existing solutions?
What are their pain points and what value are they looking to get from your products/services?
What competitors or alternatives do they consider? How well do competitors meet the segment's needs? How are you positioned relative to them?
How do they typically get product information? What is the best way to deliver information to them?
What are the unique product needs of the segment? Currently and in the future?
How much are they willing to pay? In what type of structure?
With Topline's methodology, you will know which segments to go after, with a value proposition that resonates for each. You will also know how you compare to the competition, with a clear path to stand out.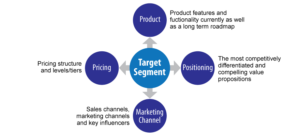 Case Study
Background:
The client is a sales effectiveness and account planning vendor. The company offers Account Planning software that 1. Enables account teams to build sales plans to further penetrate strategic accounts, and 2. Enables ongoing collaboration between multiple reps selling to the same account.
Prior to Project:
The company did not have a well defined Go to Market approach. The company was focusing on four verticals (High Tech, Professional Services, Telecom, Capital Equipment), and within each, the company targeted any company with more than one rep per account. This left a large number of prospects for Sales to go after.
Findings:
Topline found that Market Readiness is best in two verticals: High Tech and Professional Services. The key value proposition less relevant for Telecom and Capital Equipment since there are other ways of measuring demand. It is significantly less relevant for all other verticals.
In addition, the role of Strategic Account Manager (SAM) is a "must have": Companies with SAMs value collaboration, which is the backbone of the product offering, while ones without SAMs do not appreciate the company's key value proposition.
Actions:
The company refocused sales efforts on the Top 100 accounts that meet the 2 'must have' characteristics. Primary industries were High Tech and Professional Services. Required qualification criteria were the existence of Strategic Account Managers.
The client secured meetings with 40+ of the Top 100 in first 9 months, dramatically increasing the pipeline.