After the final medals were awarded yesterday, the US team had the second highest number of total medals with 28 and was tied for third highest number of gold medals with 9.
While a lot of people would expect the US to be near the top of the medal count and may view anything short of coming out on top as a letdown, in historical context, this was a remarkably good performance. In fact, the US team's Winter Olympic performance can be divided into two eras:
1998 and Earlier: Where the US was typically in the middle of the pack
2002 and Later: Where the US has consistently ranked at or near the top
Starting in 2002, the US has Ranked 3rd or Better in Total and Gold Medals in Every Olympics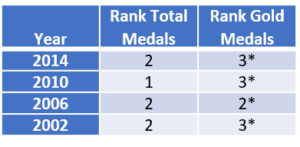 Prior to 2002, the US was Perennially in the Middle of the Pack in the Medal Count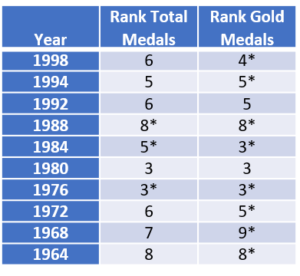 * tied for this position
So what has changed and what can tech companies learn from the US Winter Olympic team?
The changing fortunes of the US Winter Olympic team can be summed up in one word – Innovation.
Until 1992, innovation is not a term that would be associated with the Winter Olympics. Before then, the lineup of sports remained largely the same every four years. In fact, between 1936 and 1988, only two new sports were introduced – Biathlon in 1960 and Luge in 1964.
While little changed in winter sports at the Olympic level, starting in the mid 1960's, innovators in the US (and to a lesser degree in Canada) were pioneering whole new sports including Snowboarding, Freestyle Skiing, and Short Track Speed Skating. While the Olympic movement largely ignored these new sports, they gained huge followings and, through the Winter X Games, worldwide exposure.
These upstart sports became so popular that by 1992 the Olympics could no longer ignore them. That year, Freestyle Skiing and Short Track made their Olympic debut and awarded a total of 18 medals (3×6 events). The number of sports, events and medals in these new areas has grown in every Olympics since. In 2014, there were a total of 84 medals issued in 28 separate Freestyle, Short Track and Snowboarding events.
In the chart below illustrates the huge impact of these new events on the US team's performance. In Sochi, these 28 events, all of which debuted in 1992 or later, accounted for 46% of all US medals and 67% of US Gold medals.
Share of Medals Won in Freestyle Skiing, Snowboarding, and Short Track

(Top 6 Medal Winners)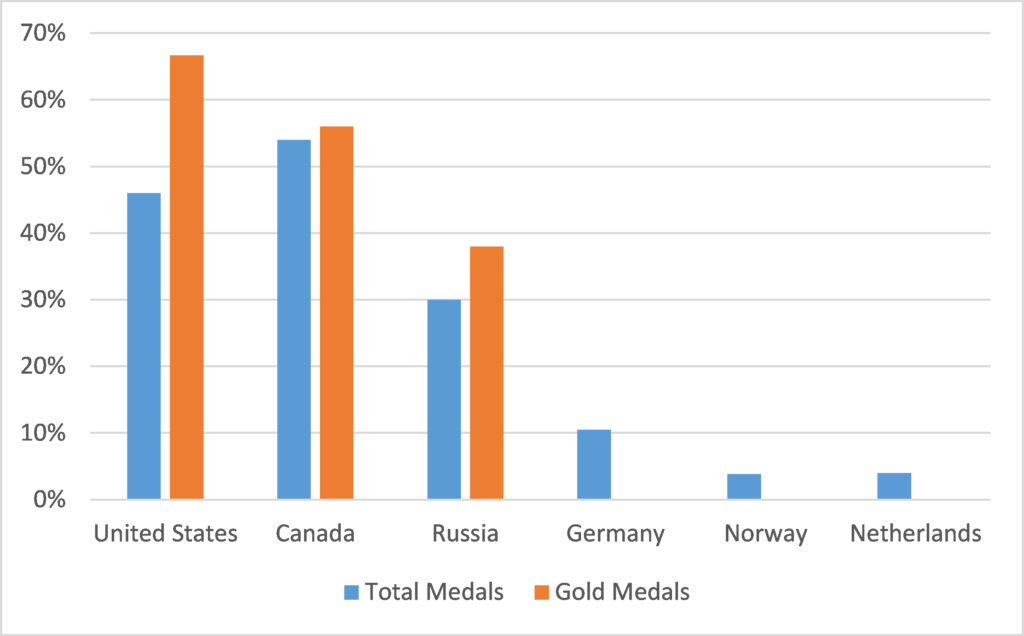 For tech companies, the lesson of the US Winter Olympic Team is clear – if you are in a market where you are perennially behind the leaders – create a new market. You can't beat incumbents at their own game. If you are going to win, you need to invent a new one.
At Topline Strategy, we work with companies to identify, shape, and validate new markets and opportunities. Contact us to find out how we can help.