Imagine that your company's technology is loved by customers, considered 'best of breed' in the industry, and has a steady NPS, comfortably in the 20s, 30s or 40s. Now imagine that in the midst of this success, some of your longest standing accounts begin to drop, others scale back their usage, and referrals slow way down.
How, you ask, is it possible? After all, isn't the whole point of having a high NPS to ensure successful retention, upselling, and referrals?
Here's the secret: When it comes to technology, NPS has a blind spot.
One of the defining characteristics of the technology industry is that it is in a constant stream of disruption. Just think about some of the companies – Nokia, Netscape, and Blackberry just to name a few – that have come to market, risen to stardom, and then disappeared. At one time these companies had legions of loyal followers and likely very high NPS scores, but that didn't help them when the market changed.
The reason: NPS tells you how you are doing today, but not how you will be doing tomorrow.
This is why Topline Strategy adds a second dimension – Direction of Importance (DOI) – into the equation. To measure DOI, we ask "Is the importance of <company/product> to your business increasing, staying about the same, or decreasing?" DOI is then calculated like NPS (DOI = % Increasing – % Decreasing)
Figure 1 shows the 4 quadrants that are created by combining NPS and DOI, along with the strategic implications of each. On the right side of the matrix, NPS performs as expected, but on the left, it can lead you astray.
Figure 1: Combining NPS and Direction of Importance Creates 4 Quadrants, Each with Its Own Strategic Implication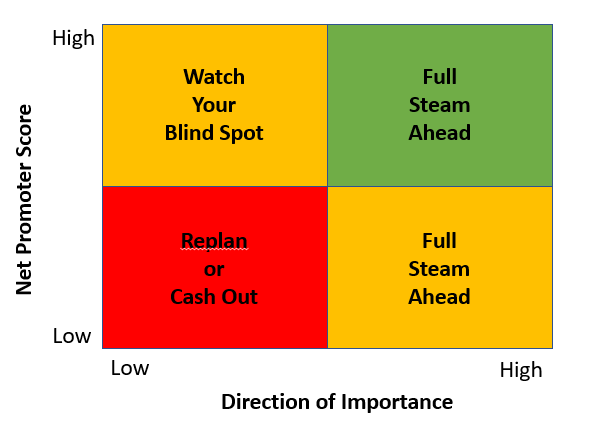 Full Steam Ahead (High NPS, High DOI) – You are perfectly positioned for growth. Keep up the good work!
Execute, Execute, Execute (Low NPS, High DOI) – Customers are invested in the product and want you to succeed. Focus on  blocking and tackling – addressing up those key issues that are driving down NPS
Watch Your Blind Spot (High NPS, Low DOI) – Don't let your NPS lull you into a false sense of security. This is where companies get blindsided by market changes. You need to put all of your effort into managing through the market transition and remember, even if you think you are on top of it, you haven't made it through until your customers say so.
Replan or Cash Out (Low NPS, Low DOI) – Conventional wisdom would say focus on getting that NPS up. But conventional wisdom doesn't take into account that you're swimming against the market tide. Just fixing NPS won't do much good. Here, you have two choices: 1) Find a way to regain relevance or 2) Focus on the profitability of what is likely to be a flat or declining revenue stream.
A DOI Case Study
For one Topline client, a provider of marketing analytics, DOI proved instrumental in enabling them to effectively respond to a key change in the market. Historically, marketing analytics has been a highly fragmented field, with different tools used to measure the performance of different marketing tactics – television, radio, print, and each category of digital advertising (social, display, search, etc.).
Cross-media marketing analytics has long been a goal for the industry and our client was working toward transitioning from a provider of best-of-breed analytics in one type of media to offering an integrated suite of analytical tools for different media types.
The market however, headed in a different direction. Rather than consolidating into vendor suites, customers pursued a hub-and-spoke strategy – where one vendor was chosen to be as the central analytics hub that best-of-breed vendors plugged into. In terms of new revenue growth, much of it was coming from being chosen as the hub.
While our client's NPS remained high, due to the value provided by their best-of-breed solution and their high level of service, DOI started to decline as competitors, chosen as hubs, were elevated above them. As one customer stated, "[Your client] has been a really important partner for us and will be for a long time, but our roadmaps diverged and it isn't where I am spending my time."
Armed with this knowledge, our client changed course and opened up their system rather than continuing to try and compete as a closed suite. By quickly adapting to this change in the market, they were able to reposition themselves to successfully compete as a hub rather than being relegated to simply being a spoke.
What is your DOI?
As these kinds of step changes happen in technology, companies with high NPS scores can get left behind. Promoters who find your technology less important over time will leave your blindsided. If you aren't yet measuring DOI, start now.