Tuck-in Acquisitions and the Need for Successful Cross-Selling Capabilities
Even just a few years ago, Growth Equity investors were focused nearly exclusively on organic growth strategies for their portfolio companies. However, somewhat recently, we have seen acquisitions become a more important element of the Growth Equity playbook.
A recent study by Software Equity Group provides some hard numbers about the extent to which this trend has taken root. In Software Equity Group's  2019 Software/SaaS Annual Report, they found that 40% of all SaaS merger and acquisition deals in 2018 were tuck-in acquisitions for PE-backed companies.
Note: Beyond the one statistic cited here, Software Equity Group's Annual Report is full of great information and definitely worth downloading.
Share of 2018 SaaS M&A deals by Type of Acquirer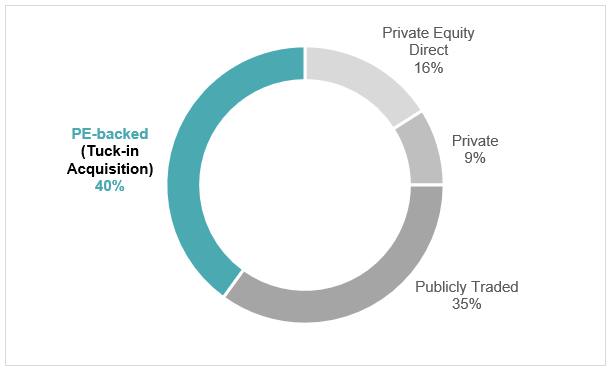 Going one step further, assuming that over time these shares are relatively consistent, if 16% of all deals are direct investments by PE funds and 40% are tuck in acquisitions, then the average PE-backed company will make ~2.5 acquisitions during the life of an average investment (40% ÷ 16% = 2.5).
As growth equity firms increasingly add acquisitions to their book of tricks, one capability that will become increasingly vital is cross-selling. However, this is also an area where we have repeatedly seen companies struggle.
Three key requirements for successful cross-selling include:
Sophisticated Targeting: A common mistake is to market the newly acquired products across the entire installed base. In fact, the new products will most likely be of interest to a portion of the base and possibly a minority. Effective cross-selling requires targeting the new products directly to the ones who need them.
An Excellent Customer Experience: Even if a company can effectively target its new offerings to the right customers, only a company's satisfied customers will buy new products from them.
Knowing How to Navigate Customers' Organizations: Often, the buyers for additional products are not the individuals with whom the company has a relationship. The company's sales, marketing and success teams need to be experts in reaching these new buyers.
If you need help building your cross-selling capability, Topline Strategy can help. Contact us at info@toplinestrategy.com